---
Hej!
My last month here as been a little slower paced than the first two. I completed my course 'Sweden and the Swedes' two weeks ago. We had an essay exam on the first half of the course (which I passed with distinction mind you). I also had a second go at the exam for my Swedish course. This exam was quite a bit harder than the first, but I managed to pass it anyway. My Swedish is still terrible, though I can read it pretty well now.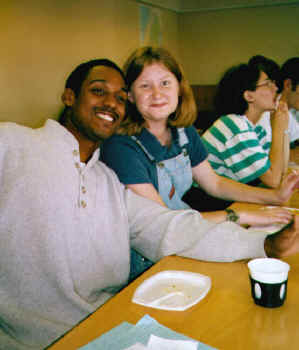 Linda and Mike on the final day of Swedish class.
I am still taking a graduate course in research methodology, which as it turns out is part of their PhD track classwork. I start 'The Swedish Model' this week and I start a statistics course next week.
Of course all work and no play makes Keith a dull boy. I have squeezed in a few trips since I last wrote. One weekend a German student, Rolf, put together a little day hike on a trail south of Linköping (Östergötlandsledan). It was nice to just show up and not have to organize anything. Well about half way through the day, we realized that Rolf had read the scale wrong, our 25km hike turned into a 50km hike. We took a short cut on a road for 10km, cutting the distance to under 40km, but it was still a very long day. I did find some chanterelle mushrooms though, and it didn't rain for once.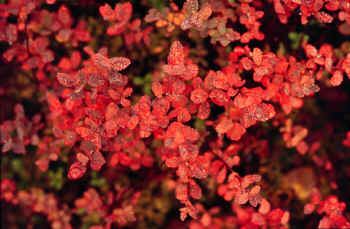 Close-up of water droplets on some Dalarna flowers.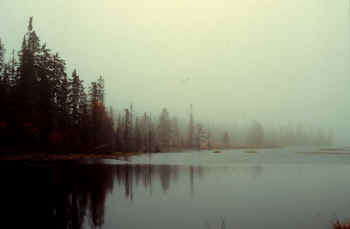 Mountain lake on one of our walks in Dalarna.
Linda, Neil and I decided to spend a long weekend "up north" in the Dalarna region. Neil was out too late drinking and didn't wake up, so it was only Linda and I. After a 9 hour bus ride, we arrived at our little cabin in the woods.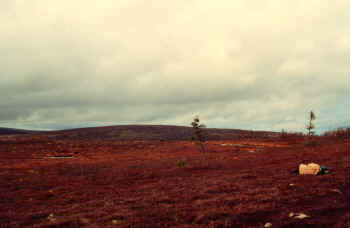 Linda taking a little nap above tree-line.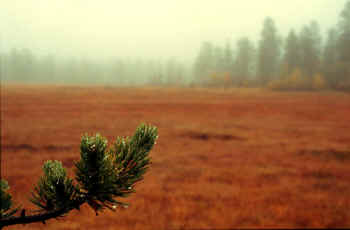 Pine bough in front of a big swamp.
Mostly it rained on us the whole time we were there. By the last day we did sort things out enough to get a decent hike through some of the more scenic areas (i.e. not along the paved highways).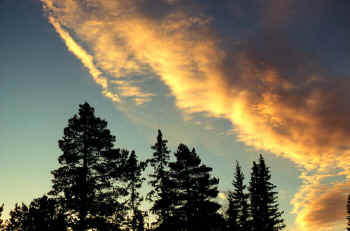 Sunrise at the bus stop, before our 12 hour journey home.
All the exchange student here put on a big party for the rest of campus called Intervallen. There were various bars from around the world. I worked in the English speaking bar, the Americans had Corona beer (we didn't get the Sam Adams we requested) and we served chips and salsa. The British folks had Old Speckled Hen beer and served scones with cream cheese and ham. We had a mock presidential election both, Clinton won with Dole next, but I think Perot made quite a come back towards the end.
A week after that, on Thursday it occurred to me that I had a 4 day weekend. I had a pow-wow with my Scottish friend Neil, and we decided a canoe trip was in order. Using my connections with the local Kanotklub, I procured a Canadian (that is what they call a canoe) and we harassed a German with a car to drop us off about 80km south of Linköping.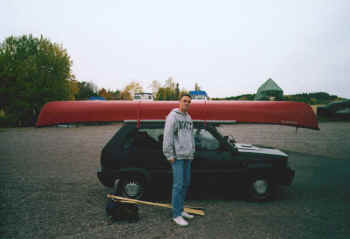 Sabastian and his German sports car (plus canoe).
We started at Horn, at the southern end of what is called the Kinda Kanal, which runs up to Lake Röxen, slightly north of Linköping.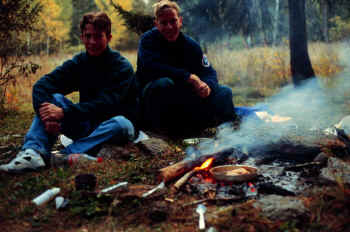 Neil and I preparing our dinner, hey nice robe!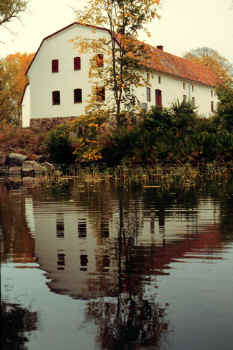 A farm like building we paddle by on the Kinda Kanal.
The lakes are quite nice, lots of surrounding woods. The leaves where changing, but the weather was still tolerable and there was hardly another sole out there. We paddled most of the daylight hours everyday, fueled by lots of scones and pasta. We also enjoyed chips, salsa and a corona after dinner every evening.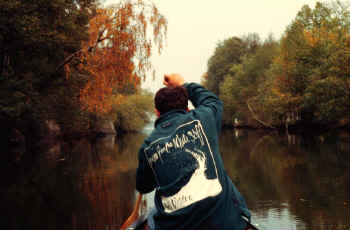 Keith and Neil in action on the kanal.
I managed to catch a few pike using my wobbly lure (the fish can't resist, it's a genetic response). The best part was when I had this big pike next to the boat. Well in my attempt to land it, it spit out the lure. He was home free except he neglected to swim away. So I pulled a Jankofsky, plunging my hands into the water, behind his gills and throwing him into the bow of the boat. He was quite tasty with some lemon pepper.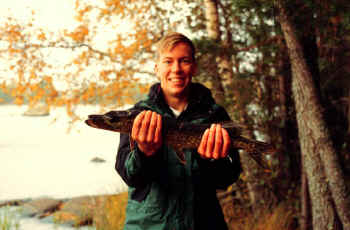 Me and the fish that almost got away.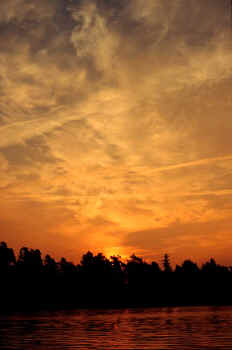 Sunset one evening on the canoe trip.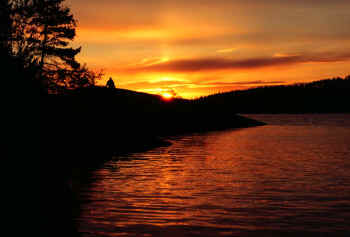 Neil enjoying the sunset while Keith cooks dinner, but I'm not bitter.
The trip ended with a horrendous day portaging around about 2,056 locks on the canal. We made it back to Linköping, beached the boat, had some El Macos from McD's and then paddled the remaining distance to Lake Röxen.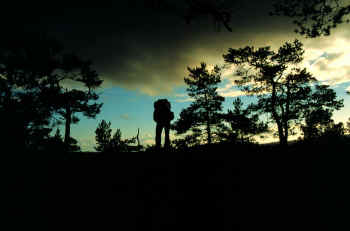 Johan(?) at the top of knoll on our Tiveden hike.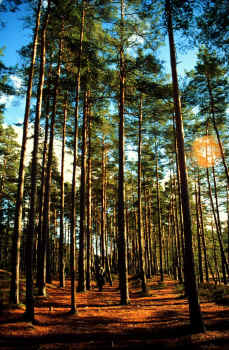 The tall trees in the park.
My Swedish friend Johan, Neil and I, also went backpacking for a weekend in Tividen National Park, about an hour west of here. The park contains one of the few old growth stands of tree around. It is quite a small park, we walked over most of the park. It was moose hunting season so we hoped to see some moving about, but no luck. Neil and I finished off the Intervallen scones, argh, if I never eat another scone it will be too soon.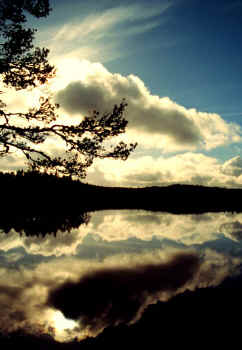 Reflection in the lake in Tiveden.
Hmmmmm, maybe it hasn't been slower paced...
Hej då!